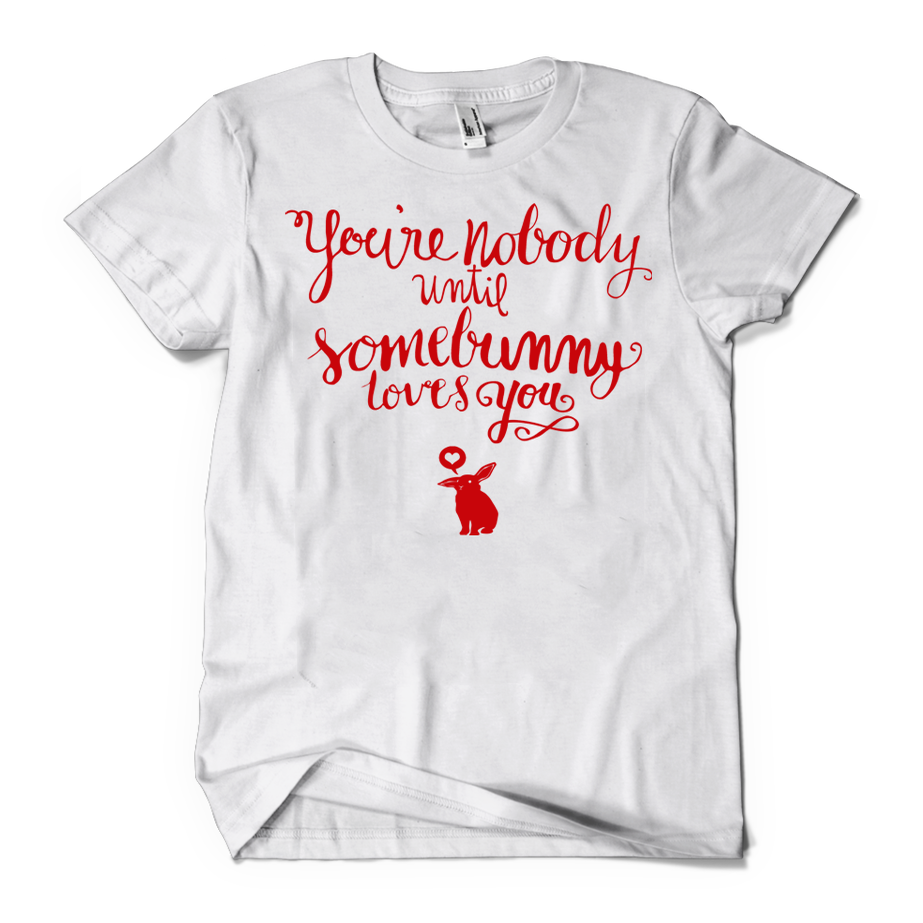 You're Nobody Until Somebunny Loves You Tee
---
They make you work hard for it, but once you've won the love of a bunny is there any better feeling? Throw on this shirt and let everyone know that there's no love like a bunny's love!
As always, 50% of the proceeds from the sales of this shirt go directly to rabbit shelters in need!
Each shirt is professionally screenprinted on quality white, Next Level 3600 tees. Shirts are available in both Mens and Womens cuts. Please review the sizes below carefully, as each shirt is made to order and there are no returns for a different size.
Mens S:
28" - High point shoulder length
19" - Bust 1" below arm hole
Mens M:
29" - High point shoulder length
20 1/2" - Bust 1" below arm hole
Mens L:
30" - High point shoulder length
22" - Bust 1" below arm hole
Mens XL:
31" - High point shoulder length
24" - Bust 1" below arm hole
Ladies S:
25 2/8" - High point shoulder length
15" - Bust 1" below arm hole
Ladies M:
26" - High point shoulder length
16" - Bust 1" below arm hole
Ladies L:
26 5/8" - High point shoulder length
17" - Bust 1" below arm hole
Ladies XL:
27 1/4" - High point shoulder length
18 1/2" - Bust 1" below arm hole
---